If you've been in my world for even a short time, you know that I bang on and on about how important trust is when you seek guidance – be it from your Higher Self or your Guides and Teachers in Spirit. It's one of the cornerstones of my work, it's that important.
I believe that EVERYONE has access to the Divine Realm and all the amazing things that come with that connection. Support, guidance, ideas that you would never have thought of but were exactly what you needed. But without trust that you have in fact, received the answers you asked for, it's hard to turn it into action.
It's SO MUCH EASIER to sit in the warm bath of doubt, indecision, and confusion (better known as "the devil you know") because then you don't have to DO anything that even slightly requires you to get out of the tub o'comfort.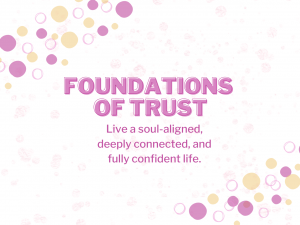 INTRODUCING FOUNDATIONS OF TRUST!
Stepping out in full trust on a high wire is sorta my gig, but I acknowledge that it's not quite that easy for everyone.
That's why Archangel Metatron and I co-created "Foundations of Trust" – a self-paced program to guide you to deeper trust.
This is the same program we used in the first 3 modules of the Channel of the Light training but updated and expanded!
You (yes, you!) can grow your self trust beyond what you can imagine and bring more peace, self-assurance, and creativity into your life and the world.
THE BEST PART:

Since this is the pre-sale offer – you get a nice discount for jumping in before it's all completed!
(More about that and other goodies soon.) Woot!